In order for an office to thrive, there must be more than camaraderie among its employees — there must be unification, understanding, and adaptability among them, as well. In any workplace, certain employees will get along better with some than others, and that's all right so long as both professionalism and compassion are maintained within the office. Synergy in an office can take time to grow, so here are some fun activities that will help inspire that teamwork and appreciation among your employees.
1. Escape the room
Anyone who has participated in a room-escape experience can tell you that it is one of the most rewarding team building activities of all time. Places like Escape the Room, Boston provide all-inclusive scenarios in which your group is locked in a room and must complete a series of puzzles and mind games within an hour to escape. The scenarios range from escaping an apartment to escaping an archaeological dig site, so make sure your employees come prepared to put their minds together under pressure!
2. Volunteer work
Nothing connects a group of people more than rallying behind great cause. Take the time to talk to everyone in the office and see what they're passionate about, then find a place where you can put those passions to good use. For example, if there are a lot of environmentalists in the office, pick a day for the office to go clean-up a local park, or go to an orchard and plant trees. Organizations like Habitat for Humanity even provide corporate volunteering opportunities for businesses, which is a great way to break down the sometimes impersonal dynamic of the office and get your employees connected on a more personal level.
Courtesy of Habitat for Humanity
3. Laser tag/paint ball
While many businesses may frown at the frivolity and silliness of this event, nothing brings out the best in people like some friendly (and a bit childish) competition. You can play a few rounds of this, dividing the teams up differently each time, to encourage healthy strategizing, positive interactions, and unification among a variety of different employees. Not only will light exercise and activity lighten everyone's moods during the game, but it will also give them something non-work related to talk about once the game ends.
Courtesy of Frank's Fun Park
4. A group class
Having your office enjoy a Zumba class together may seem trivial, but in reality, the team building opportunities in an activity like this are endless. Similarly to paint ball or laser tag, physical exercise is unifying by itself, but when you add a motive or end goal, it makes it all the more worthwhile. Sweating out your work-induced frustration with your corporate peers in an uplifting setting like a Zumba class is a great way to unite your employees. And who knows, some of your employees may enjoy it so much that they choose to come back with each other!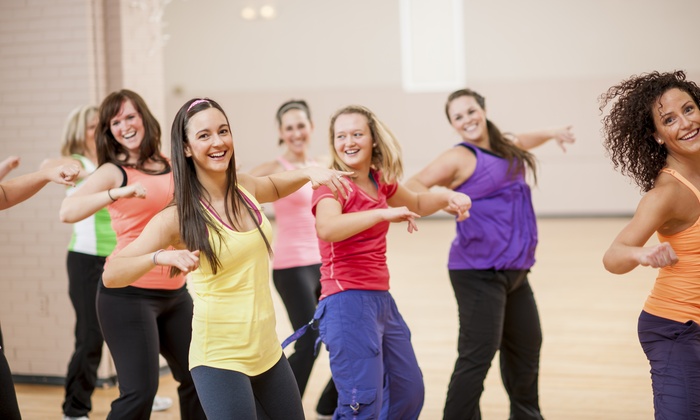 Courtesy of Groupon
5. A daily ritual
While this one isn't a specific event, creating a daily ritual in the work place outside of meetings and work projects is a great way to bring together your employees. For example, everyday at noon you could have your employees meet in the conference room and do a 5-minute arm workout together, have someone new bring in a movie or song and explain why they enjoy it every Monday morning, or every Friday, you can kick the weekend off with a totally not-funny joke or pun. Routine and lightheartedness, although not as flashy as some of our other team building ideas, are still great ways to slowly and steadily raise camaraderie in the workplace, so don't be afraid to get silly with your office.
Courtesy of Law at Work
Check out some more business tips and tricks at the Pepper Hub!